ELLEN DIAMOND
is a Landscape artist working in contemporary impressionistic and abstract style.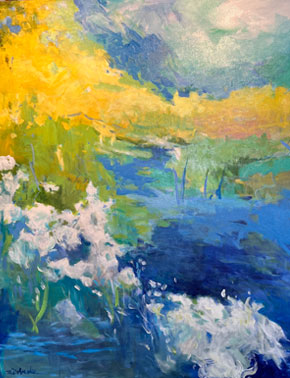 She grew up and was educated in New York City and is now living and working in Jacksonville Florida where her work is greatly inspired by the natural beauty of Florida's coastline, marshes, wetlands and rivers. Her paintings are hung in many healthcare facilities and hospitals for the positive emotional response that her luminous color and soothing compositions have on patients.
Many of Ellen's paintings focus on the European Landscape inspired by her summers spent in Tuscany, Provence and the South of France.  The hills of Tuscany covered with rows of grape vines, the Tuscan sunflower fields, the Provence countryside, small villages and flower markets of the South of France have all become inspiration for her many paintings. Gestural brushwork and lively color take the viewer right into the beauty that these paintings evoke.
"Beautiful flowers have helped me focus on beauty rather than our difficult times. It's been a joy greeting these colors on my easel each morning." —Ellen